>> Friday, December 17, 2010
I forgot to mention that rose hip syrup is a real good source for vitamin C. It has a lot more vitamin C than a orange.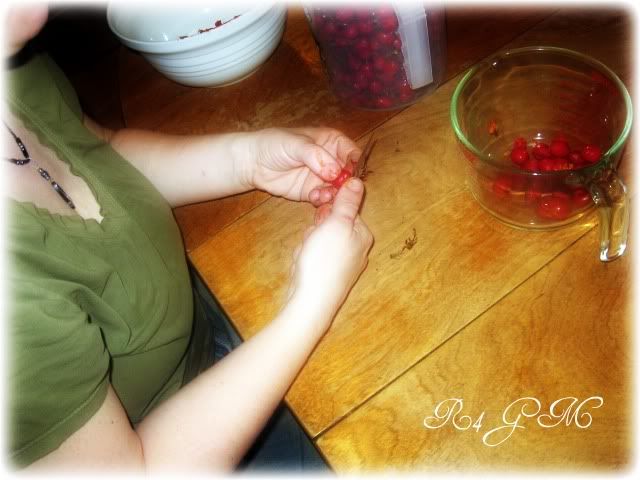 Making Rose Hip Syurp
Ingredients
7 cups of water
1-2 cups of sugar
4 cups of rose hips topped and tailed
Method
- Semi-Roughly chop rose hips in food processor
- Bring 6 cups of water to boils
-put chopped rose hips into boiling water
-bring back to boil and then take off burner
-let it steep for 15 minutes
-strain through a cheese cloth or sterilized jelly bag or what I use is a sterilized curtain sheer
- Then boil the last cup and a half and put the rose hip paste back into water
-bring back to boil and take off burner again and let it steep for 15 minutes
-Pour back into clean pan add sugar and boil rapidly for 5 minutes
-Pour into sterilized bottles or jars and seal
-give it a hot water bath for 5 minutes in canner
Things I learned making it...
Pick rose hips after first heavy frost and don't wait for it to snow.
cut rose hips off the rose bush with rubberized garden gloves and scissors
add sugar to taste...try half a cup of sugar till you like the taste. After the first hard frost it makes the rose hips sweeter and you may not need as much sugar or at all. ( depends on taste)
I hope if you try this you will let me know how it went for you. I would love to know. Ohhh I almost forgot to say that you take a Tablespoon a day for good health.
( to join in on the fun click the graphic and visit my sweet friend Lori)