>> Thursday, March 10, 2011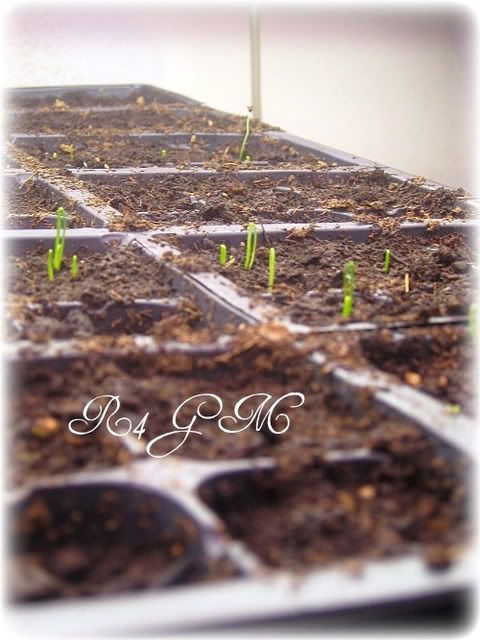 A Tray of Leeks
I am so excited that I am starting to finally see signs of spring here. I have to admit to those who don't know this about me but I am not a natural lover of gardening. My hubby the gardener and he has slowly lured me into helping him. I do enjoy certain parts of the garden more than others. For example after planting and waiting and then the plants just... break forth out of the ground is such a simple pleasure of mine. It to me is a sign of hope and new life. New life coming forth is such a pure joy, if it be a new born baby, or animal, or plant. I loved the verse in the creation account in Genesis that mentions that God planted a garden. He didn't speak it to be but it said He planted it. That just shows the loving and caring side in our creator that I think is missed ohhh too often. I didn't catch that till I was in my 30's and I went to a woman's breakfast at church and a sweet lady who was the speaker drew our attention to that. Isn't our Lord so amazing. I hope that you take a moment sometime this spring and stand and be amazed at our Lord's creation and know that it didn't just evolve but was a gift from our creator who thought out every detail as a gift for us.
.....Simple Pleasures is to remind me to stop, to look, to listen, to slow down and pay closer attention to the simple things in life. And when ever I do, I am never disappointed.
To join click on the Simple Pleasures graphic and see what it is all about.