>> Friday, February 11, 2011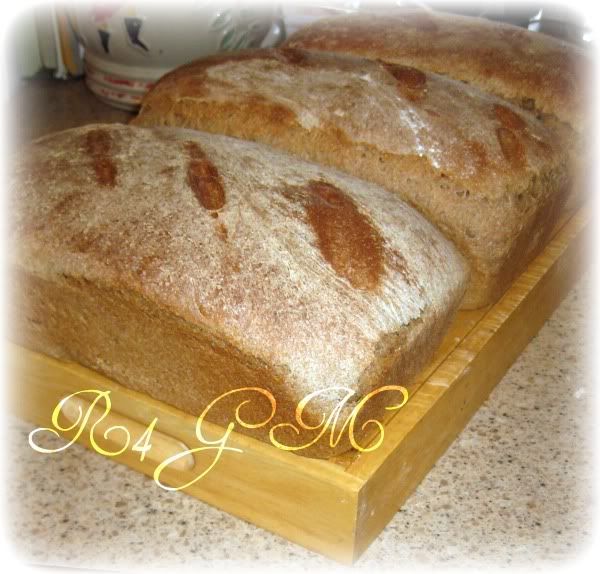 Update:

I will share next week how to make some simple breads using flour bought from the store. They DO act differently than home ground flour.



Using Dough Enhancers When Making "Home Ground" Whole Wheat Bread

Sense last summer I have been figuring out how to make yummy things from grinding my own wheat in our grain grinder. I haven't been fully happy with my bread till last summer. The change ? It was using dough enhancers. I haven't bought any pre-made ones because it had things that my 2ds is allergic to. So of course I have been researching on the net. And I found some answers. ((happy dance))
Here is a link to a neat video Dough Enhancer for making Homemade Bread
*******Here is the bread recipe that I used and loved ! It is at BreadExperience .com **********
Tips for using your own everyday items as dough enhancers in WHEAT BREAD: (It's best to use ALL THREE of these enhancers when making whole wheat bread)

Gluten: use 1/2 T. – 1 T. per cup of flour (this means before you measure a cup of flour place the 1/2 T.-1 T. gluten in the bottom of your cup and then measure flour as usual)

Apple Cider (or white) Vinegar: use the same amount of vinegar that you are using for yeast (i.e. 1 t. yeast – 1 t. vinegar)
I have to say that prefer to use Apple Cider vinegar because it is healthier and more natural but white vinegar works just fine.
Potato Flakes or Potato Startch: use 1/8 to 1/4 C. per loaf of bread you are making, experiment to see what works best in your recipe. (do not substitute in potato pearls, they don't dissolve as easily and are artificially flavored which you will be able to taste in your bread)
If you are making bread and want to give a extra umph try it and here is some must sees in how to make really good bread videos. I learned soooooooo much from this gal and I have been making bread for 30 years.
***Lately I haven't been using Potato Starch and it does pretty okay. It you make some bread from this recipe I hope you share that you did. I would love to hear how it worked.



Here is a series of videos that REALLY helped me in this learning curve.
1/8 Making Fresh Ground Whole Wheat Bread
2/8 Making Fresh Ground Whole Wheat Bread
3/8 Making Fresh Ground Whole Wheat Bread
4/8 Making Fresh Ground Whole Wheat Bread
5/8 Making Fresh Ground Whole Wheat Bread
6/8 Making Fresh Ground Whole Wheat Bread
7/8 Making Fresh Ground Whole Wheat Bread
8/8 Making Fresh Ground Whole Wheat Bread