>> Saturday, December 18, 2010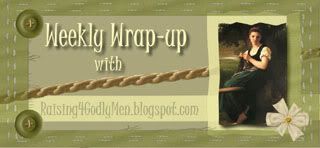 I am thinking ...what is on my heart and mind. Hmmmm my thoughts are thinking of the things I need to do. We are hosting meals before family leave on trips. I am hosting the big family dinner. I have been asked by friends if I got all my shopping done. Well, I have been quiet but I don't play up Christmas any more. I do believe in the miracle of Christ's birth but I don't feel comfortable to celebrate it the way most do. I prefer to celebrate Hanukkah and know that Jesus is the true light of the world and our Savior. But I will be hosting the big family dinner as usual but that is it. We are going to be busy bees getting ready for the New Years celebration. We have a games night with all kinds of food and fun. We are really looking forward to that.
We are going to be doing a lot of cleaning and prepping for the family get to-gethers. I need to still make more rose hip syrup.(recipe HERE) The picture is of Noah picking from the rose hip bush. I didn't get any done this last week because it was still raining too much. It has turned cold again and I should be able to pick them. It has been getting down to -8C* which I think is 20F* and that will make picking them easier than in rain.
I plan to keep reading to the boys from Proverbs and our Canadian historical novel during our winter break. Plus, I want the boys to keep reading to me from their books that they read a loud from.
I have been trying to bust my yarn stash and making things that are useful for our family. For example the red squares are felted hot pads that I just LOVE. ( those are crocheted) Or I can make and give to those who are in real need of a hat or scarf to keep warm this winter. Plus, I am working hard at finishing UFO's ( un finished objects). I have a pair of fingerless gloves that I just need to finish a thumb hole on. I have started the sleeves on my Shalom cardigan and then I just need to sew in the ends and sew the button on. ((yipppeee)) Now on the bottom left is a triangle scarf I am knitting and next to the fingerless gloves is a headband I need to finish. And ....then I hope to one day get back to my hexagons for Essie and Philip's laptop blanket.
There will be a lot of cookies and candies being made in getting ready for New Year's Eve games night. I will be making in the next week or two... ginger bread snowflake cookies, short bread cookies, sugar cookies, Mama Mia's date fudge, Grandma's fudge, milk chocolate fudge, and mint choc. fudge, after dinner mints, and homemade marshmallows, and maybe some thumb print cookies. I know that sounds like a lot but thank goodness my boys will hopefully help. ((hopeful thinking))
I am sooooooooo glad to say that I can report that my back is out of pain. (((HAPPY DANCE)))
" The Prayer That Changes Everything...The Hidden Power of Praising" by Stormie Ortaman

" Those Who Trust in the Lord Will Not Be Disappointed" by Peggy Ruth
I am thankful for fun times with my family. And a two week period that I hope to get some lesson plans done. ((hopeful thinking))
If you would like to join me in this meme, just write up your weekly summery , using mine or your own catogories. Then sign the Mr. Linky below I'd love to ready your Weekly Wrap Up summaries too. I hope to post mine each Saturday. This meme is a great way to be encouraged and encourage others in our journey of homeschooling.