>> Tuesday, January 18, 2011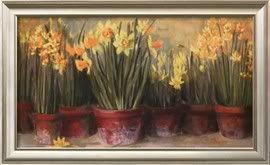 In the last 1o years the Lord occasionally will give me a message through a wonderful man at church. I really do feel like I am hearing a direct audio-able message from the Lord. I am usually in tears because it pierces my heart as I hear what is being said. This dear sweet man of God has taken such physical wounds and have allowed to learn from them and praise the Lord and constantly minister to others. He shares his story and shares how God is in control and knows every last detail of what is happening in our lives. He shares how he was spared two times from near death accidents and lives to still spread the good news. He says that God must not be done with him yet here on earth or the Lord can't stand him and is not ready for him to come home yet. [0= He shared how nothing in our lives is happening outside of Gods protection. He knows everything what we need and is very involved in our lives. Nothing is too hard for God. He shared with me that after suffering for 20 years then a second near death accident that happened year ago is causing his body to heal things that he has suffered from the first accident. PTL!
For 20 years he would have to leave right after church to avoid all the noise because it would cause such pain and suffering but now he can stay and visit. He also couldn't sing because it would cause such suffering but over the last month or so he has been able to sing through a whole service. What doctors thought would never improve IS. PTL !
As my dear friend was sharing all this with my this last Sunday I felt God was speaking strait to me. I felt through my dear friends words that the Lord was saying to me that He (God) knows every last detail in my life. That He (God) is in control of it all and knows what I need. I felt the Lord was telling me through my friend that He has not forgotten me. ( sometimes lately in my frustration I felt this) I have never given up but I have felt tired and dry and I am very ready for the Lord to breath new life into me again. I prayed that this morning in my quiet time with the Lord. I am ready to trust even when times get tough.
I am going to share that things have been very tight lately. With friends who have followed my blogging over the last 4 and half years know that I am very frugal but the Lord is teaching me even more in this department. I have said over the last couple of years...." I have cut so many corners that I am down to a circle". *grin* Well every time I seem to say that.... the Lord says that there are a few more corners you can cut. I rejoice that I am learning this because I am thankful as I learn to cut another corner that I get to share with others how to save money and put it where it is more needed.
"I count JOY my brethren when I meet various trials for the testing of my faith produces steadfastness and let steadfastness take full effect so that I may be perfect and complete."