>> Tuesday, March 8, 2011
The last two Saturday's I have been working on de-cuttering and clearing out all the STUFF for the future bathroom. I have talked about this in the past but now it is GOING to happen. This time trying to clean it out I made a rule with myself. When I take something out to sort through and if it doesn't pertain to the future bathroom it cannot go back in. This has been really working. ((happy dance)) I have a bit more to go and with spring break at the end of this week I know I will make it happen. We have a claw foot tub and a shell pedestal sink are just waiting to go in. I still have to get a toilet and tile for behind and under the tub area but it is getting close.
BEFORE
UP TO DATE as of Saturday March 5th

I have a bit more to go but there is a light at the end of the tunnel and a carrot dangling to get there. I am determined to soak a couple of hours in my light lavender painted tub.
Here is the shell sink I found at a second hand store...score!!!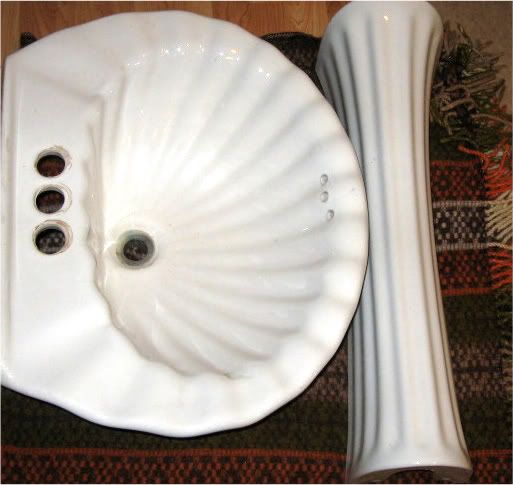 And my tub. It is hard to see but it is a pale lavender colour on the outside and white on the inside.